The Ring-Bearer and Flower Girl are usually dressed to look like a couple. Some brides and grooms like to dress them up to look like miniature versions of themselves, and the look is just adorable.
The Ring-Bearer & The Ring Pillow
Little ring-bearers have a big responsibility as they have to secure and deliver the wedding bands. Traditionally, the ring-bearer carries the rings on a ring pillow with both the bride and grooms' wedding bands tied to it as a symbol of their union to be. In some cases the ring bearer carries imitation rings while the best man carries the real rings for safekeeping. The ring-bearer is traditionally a young boy who is a relative of the family and around the same age as the flower girl(s).
The Flower Girl & The Flower Basket
When the flower girl starts her walk down the isle, everyone is thinking, "here comes the bride!" The Flower girl typically walks in front of the bride carrying a flower basket and spreading flowers down the isle before the bride. Some couples use only one flower girl while others use multiple. It all depends on the number of cute little girls in the family of the couple.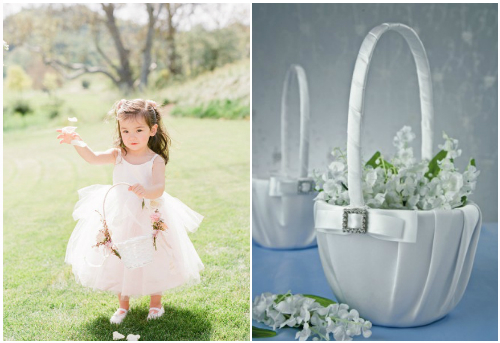 Need wedding essentials for the flower girls and ring bearer? Contact Creative Weddings.