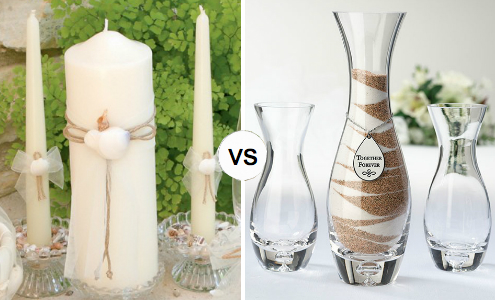 The lighting of the unity candle is a more traditional ceremony that is very meaningful in Christian wedding ceremonies. However, it has been adopted as a symbol of unity in many modern weddings. The unity candle is lit by the bride and groom from two separate candles that represent the union of the families. Often the mothers of the couple light the family candles, then the bride and groom use their respective family candles to light the unity candle together. This symbolizes the unity of the couples family and creation of a new family. It can also symbolize the union of two heart's flaming love joining together and igniting one true love. It is the perfect ceremony if you are planning an indoor wedding or a traditional church ceremony.
Many couples that are planning an outdoor wedding opt for the unity sand ceremony set, as a unity candle ceremony can be disrupted by the wind. The sand ceremony set is also perfect at beach wedding ceremonies or for any beach lover. It also works well if small children are involved in the ceremony, as it is a safe option as opposed to fire. The ceremony is performed with the symbolic blending of two or more different-colored sand into one vase. The sand ceremony set is also often used in the home as a decorative reminder of a couple's love and vows. In some cases modern couples perform both ceremonies at their wedding.
If you would like to view our collection of unity candles and unity sand ceremony sets, contact us or make an appointment.